NSE 21st National N Scale Convention
MILWAUKEE, WI
June 26-30, 2013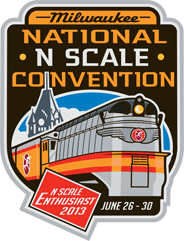 The Convention is over; we hope that everyone had a great time! We have received hundreds of photographs which we have as far as possible sorted into the following groups based on the information provided. There will however be crossovers and there are a good many duplications as in many cases we received the photographs unedited.
Just click on the group name to see the pictures.
Registration & Welcome
Layout Tours
Model Contest
Kalmbach, Walthers and East Troy Tour
Auction Night
East Troy Dinner Train
Swap-A-Rama
Banquet Night
Manufacturers Breakfast
Around Milwaukee
General Photos
Magazine Memories
Due to the volume of photographs received by N Scale Enthusiast we regret that we are unable to give individual credit to each photo. N Scale Enthusiast also assumes that unsolicited material recived – including photographs – is intended for publication on our website, unless otherwise noted, and is contributed gratis.
We would like to thank the following photographers for submitting their efforts to N Scale Enthusiast. We really appreciate their efforts.
Collin Reinhart, Steve miller, Terrie Compoy, Robert & Deena Anthony, Dewey Jones, Bill Pickens, Barbara Hoxsie, Paul Graf, Mike & Barbara Homewood

and Dennis Turner.
Videos:
Click on the following to view videos related to the Milwaukee convention.
To view the MR Insider video covering some of the events at the Milwaukee convention, including the train show, a tour of Kalmbach Publishing Co. and more.
To view the Milwaukee-N-Southeastern club's "Cheese Night" video Tribute to the 2013 National N Scale Convention.
---
Thank you to everyone that made this
convention possible including . . .
2013 N Scale Enthusiast National N Scale Convention Committee Volunteers
Our thanks go to . . .

Jack Armstrong
Eleanor Armstrong
Marilyn Baker
Dick Baker
Meghan Barone
Howard Barnfather
Ryan Brogdon
Bill Chown
Neal Carnaby
Dean Daughenbaugh
Richard Fisher
Nanci Fritschle
Carter Fritschle
Matt Gaudynski
Paul Graf
Doug Hickman
Barbara Hoxsie
Fred Hoxsie
Skip Hayes
Lorraine Hayes
George Johnsen
David Kolb
David Kaplan
Jon Monsein
Mike Homewood
Barb Homewood
Jakob Lewis
Dennis Miller
Betty Miller
Janet Ollendorf
Bill Parks
Alex Postpischil
David Reinhart
Linda Reinhart
Eric Smith
Keith Schmidt
Mike Vivion
Ken Yohe

A Special thanks to these NSE supporters!

Zana Ireland – Digitrax
A. J. Ireland – Digitrax
Rich Businger – Digitrax
J. Brent McKinley – Vine Street Group
Fred Hoxsie – GHP
Peter Harris – N Scale Kits
Eric Smith – Micro Trains Line
Paul Graf – Atlas Model Railroad Co.
Kirk Reddie – N Scale Railroading
Pamela Clapp - N-Scale Magazine
Brad Herz – Tex-N-Rails
Craig Ross – Bluford Shops
Matt Gaudynski – Fox Valley Models
Peter Postel – Brooklyn Locomotive Works
David Ferrari – DeLuxe Innovations
Jan Lush – Big Little Railroad Shop
Stacey Walters Naffah – Walthers
Kimber Stevens - Woodland Scenes
Dale Rush - Blair Line
Frank Angstead – Intermountain Railway
Dave Ferrari – DeLuxe Innovations
Athearn Trains
Lowell Smith - Lowell Smith Signature Series
Russ Kaufman -The N Scale Architect

Thanks for all the Layouts and Clinics!

Keith Schmidt
Greg Johnson
Joe Russ
Richard Frasier
Keith Kohlmann
Milwaukee-N-Southeastern
Gary Seymour
Capital City "N'gineers
Jim O'Donnell
NorthWest N-trak
Jerome Schuh
Milwaukee Area N-trak
Modutrack
Lloyd Bunkelman
Kettle Moraine Ballast Scorchers
Dave Wichman
Wendy Mollenhauer
Will Waszak
Greg Hoppert
Larry Pizur
John Tindall
Dave Comina
North American Prototype Modelers
Jerry Gunderson
Jim Kelly
Eric Meyer
Steve Miazga
Rob Pfieffer
Tim Scott
David Popp

Thanks to all of you!

Products offered for sale on these web pages are recommended for ages 14 and up
Copyright© 1993-2017 N Scale Enthusiast® Society
All rights reserved
National N Scale Convention is a Registered Trademark of the N Scale Enthusiast®
Last updated September 19, 2017